If you are a landowner in central Virginia, whether you own farmland, conservation land, or a small plot, you'll be happy to know that there is ample funding to provide support for maintaining and improving your land. Read on to find out more about specific programs.
Virginia Trees for Clean Water
Trees help remove common pollutants from stormwater, therefore improving the water quality of runoff that enters the drainage system. Virginia Trees for Clean Water provides funds on a reimbursement basis to support the planting of trees in the Commonwealth for this purpose. There is, however, a 50/50 match requirement. Funding is available to private citizens, as well as to educational institutions, non-profit organizations, civic organizations, and local government. The deadline to apply is approaching quickly (February 16, 2017). The application instructions specify, "Winning proposals will demonstrate the merit of the project and how the trees will be maintained in perpetuity." The program is funded by the USFS Chesapeake Watershed Forestry Program and the Virginia Department of Conservation and Recreation, and facilitated by the Virginia Department of Forestry.
Headwater Stream Initiative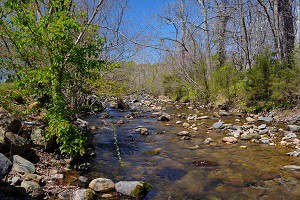 The Headwater Stream Initiative is a program facilitated by the Piedmont Environmental Council in partnership with Friends of the Rappahannock. If you own land in the upper Rappahannock River watershed—which includes all or parts of Madison, Culpeper, Rappahannock, Greene, Orange, and Fauquier counties—you may be eligible to receive free assistance and materials to plant native trees and shrubs along waterways on your property. This vegetation is known as a riparian buffer, which keeps the water cleaner, shades it from higher temperatures, reduces erosion, and improves the natural wildlife habitat. There is no deadline to participate. Simply sign up here.
In 2016, Blue Ridge PRISM (Partnership for Regional Invasive Species Management) announced that the RCPP (Regional Conservation Partnership Program) had made funds available to help landowners of "nonindustrial private forestland and agricultural producers" remove invasive plants. Blue Ridge PRISM serves Albemarle, Greene, Madison, Nelson, Augusta, Clarke, Page, Rappahannock, Rockingham, and Warren counties. Only land located within one of those counties is eligible for funding. Blue Ridge PRISM's original announcement has more information about what kinds of invasive species are eligible for removal. Applications are accepted on a rolling basis, however, the NRCS (Natural Resources Conservation Service) may put deadlines in place to stagger applications according to "batching periods." You can learn more here about eligibility and the application schedule.
USDA Farmers Market Promotion Program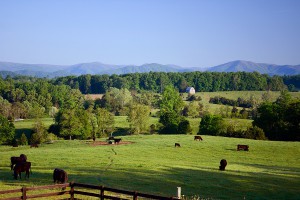 In September 2016, the U.S. Department of Agriculture awarded a grant of almost $250,000 to the Rappahannock-Rapidan Regional Commission through the Farmers Market Promotion Program in order to promote local agriculture in the northern Piedmont. The funds will be used in part to support marketing of the Madison County Farmers Market and Culpeper Farmers Market, as well as the Tween Rivers Trail—a self-guided tour that highlights the agricultural and artisanal goods of the area. You can read more about the locally awarded grant in The Daily Progress here.
Further Funding
You can also check out many other funding opportunities available through the Thomas Jefferson Soil & Water Conservation District.