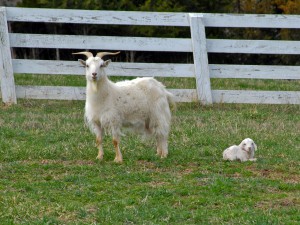 The area around Charlottesville is fertile ground for agricultural ventures, due in large part to the number of restaurants and the emphasis on locally sourced food. The farm-to-table aesthetic is a governing principle for many restaurants in the Charlottesville area, and proves to be mutually beneficial to both the farms and restaurateurs involved. The restaurants get fresh, tasty produce and livestock from next door, and the farmers have a readily-available market for their products. It's never been a better time to be a farmer in the area…there's both plenty of land available and a huge, always eager customer base. With regards to the distribution aspect, there's the community supported agriculture (CSA) route, or the use of distribution services like Local Food Hub. The former allows farmers to sell their wares to consumers directly, at the beginning of the growing season, giving them access to revenue they wouldn't get until harvest season. Once harvest rolls around, consumers receive produce periodically at discounted prices, fresh off the vine. Local Food Hub is a non-profit organization that partners Virginia farmers with distributors, schools, and restaurants with a hankering for local food.
Central Virginia's topography, relatively mild climate, and various levels of elevation make it an ideal location for a variety of agricultural pursuits. There are a number of horse and cattle farms in the area, due in large part to the abundance of wide open pastures. The central Virginia region, with its hills and valleys, warm, robust climate, and distinctive soil, has a certain kind of terroir. A French word, terroir refers to the combination of climate, soil quality, and elevation that make a region suitable for wine cultivation. While California has long been recognized as the country's wine capital, Virginia (central Virginia in particular) has attracted a low-key following as an underrepresented but formidable wine state. According to the Alcohol and Tobacco Tax and Trade Bureau, Virginia is the 6th highest wine producer in the country. In 1990 the state had fewer than 50 wineries…now it has over 250. The sloping uplands and wide pastures make the region a promising, potentially untapped wine haven. Some wines, like vermentino or Cabernet Sauvignon are better suited to the hot, occasionally humid summers of Virginia. In general, the warmer climate of Virginia is similar to the Mediterranean weather of southern Italy. These climates tend to produce full-bodied, fruity wines that are higher in alcohol content.
It's important to know what you want out of your land and what you want your land to do for you. Having a vision helps us find the perfect piece of property for you, and recognizing the necessary steps will help foster success no matter what the venture. Many of the same terroir considerations that can make or break a vineyard venture are relevant when choosing land for an orchard. In both instances, you need a certain amount of elevation, and good air drainage for your chosen crops. For horse and cattle farms, a plethora of wide open acreage is a must, and you need fencing or the ability to install some fencing infrastructure. Is there a good, reliable source of water for your livestock, and do you have (or have plans to install) a separate sewage system? How about accessibility? You'll need a good way for incoming or outgoing deliveries, whether it be a few tons of hay coming in or a few yearlings going out. If you're thinking about buying a farm in central Virginia, you've made a wise choice in considering one of the most versatile, multifaceted regions in the country. Now all it takes is fine-tuning that vision and picking the plot of land that reflects your goals. And you don't have to do it alone.  Browse our Virginia farms for sale at www.centralvirginiahorsefarms.com, www.charlottesvillehorsefarm.com, or www.cattlefarmsinvirginia.com, and start your search today! Gayle Harvey Real Estate has farm listings from Culpeper County south to Amherst and from Louisa County as far west as Rockbridge and Augusta counties.