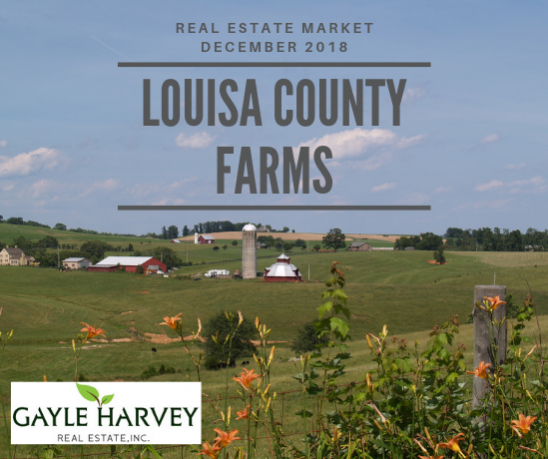 Latest Market Information for Farms in Louisa County, Virginia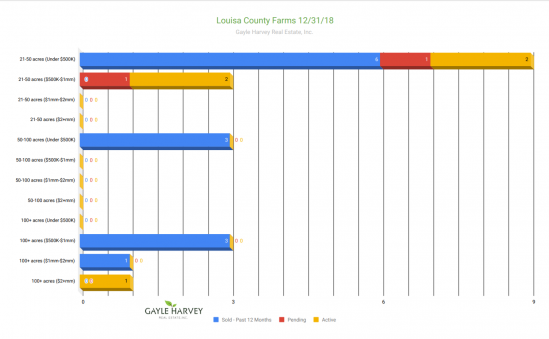 (This real estate market report includes information through 12/31/2018 for Louisa County, Virginia.)
The majority of farms listed and sold in Louisa County are small farms, between 21-50 acres. At year end, there were four active listings, two pending sales, and six sales in the past twelve months for small farms. Most of the farms of this size are listed and sold at under $500,000, with a handful reaching into the $500K to $1 million  price range.
There are just a few mid-size farms, 50-100 acres, to be found in Louisa County. In the past year, there have been three sales, all for under $500,000 in price. At year end there were no active listings or pending sales for mid-size farms.
Large farms in Louisa County, over 100 acres, vary in price from $500K to over $2 million. Right now, there is only one active listing for a large farm in Louisa County, with no pending sales and four total sales in the past year.
It's a good idea to keep an eye on the real estate market when you are planning to buy or sell a farm.  If you're wondering which key factors to pay attention to and how that impacts your decision making, I would love to talk with you and help answer any questions. Contact me, Gayle Harvey, at Gayle@GayleHarveyRealEstate.com or 434-220-0256.
If you're looking for information on farms in other parts of Central Virginia, you can find that here:
Central Virginia Farms – Dec. 2018
Albemarle County Farms – Dec. 2018
Madison County Farms – Dec. 2018
Orange County Farms – Dec. 2018
Buckingham County Farms – Dec. 2018
Fluvanna County Farms – Dec. 2018