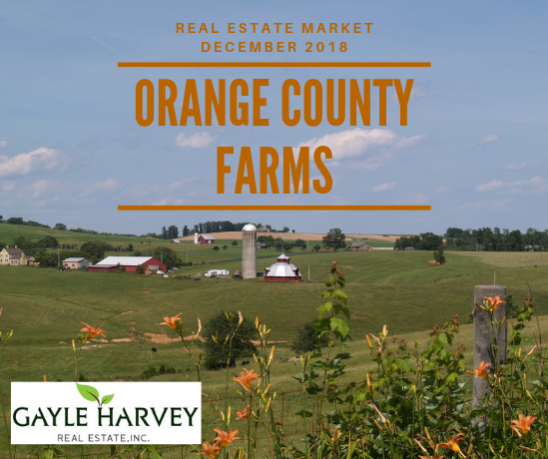 Latest Market Information for Farms in Orange County, Virginia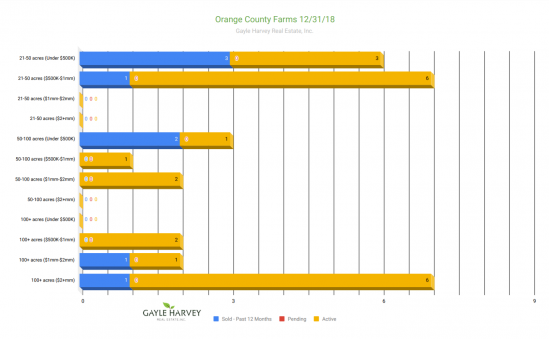 (This real estate market report includes information through 12/31/2018 for Orange County, Virginia.)
At year end, there were a total of 22 active listings for farms for sale in Orange County, with zero pending sales and just 8 sales in total for the past 12 months. Farms priced under $500K saw the majority of the sales activity for the year. Mid-size farms, between 50 and 100 acres, and small farms of 21 to 50 acres, priced under $500K, accounted for five of the eight sales for the year.
There are currently active listings for six large farms, over 100 acres, priced over $2 million, with only one sale in the past year for this size and price range. There are also six active listings for small farms priced between $500K and $1 million, again with only one sale for the past year for this price range and size.
The market right now suggests that most buyers are looking for the lower-priced farms in Orange County. This is the time for sellers of farms to make sure they are spot-on with their pricing, strategy and marketing efforts. As a local Central Virginia real estate broker who has lived and worked on a farm, and who has the real estate knowledgeable and expertise to guide you through a successful farm sale, I would consider it a privilege to work with you as a resource and guide during the sale of your Orange County farm.
It's important to me to go the extra mile for my clients and always keep you up-to-date about your farm sale. If you have any questions about real estate, the market or available listings, please reach out to me! Gayle Harvey, at Gayle@GayleHarveyRealEstate.com or 434-220-0256.
If you're looking for information on farms in other parts of Central Virginia, you can find that here:
Central Virginia Farms – Dec. 2018
Albemarle County Farms – Dec. 2018